Posted by Emily Willis on 31st May 2022
Whether a Step Dad, Grandad, Foster Dad, Adoptive Dad, whether one Dad, two Dads, or perhaps remembering Dad, Father's Day is a celebration of the fantastic father figures in our lives, whoever they may be.
From the first time Dad's to the ones who could do it all with their eyes closed (nappy changes included!), Father's Day is a day dedicated to honouring and maybe giving a great gift from your heart to their hands!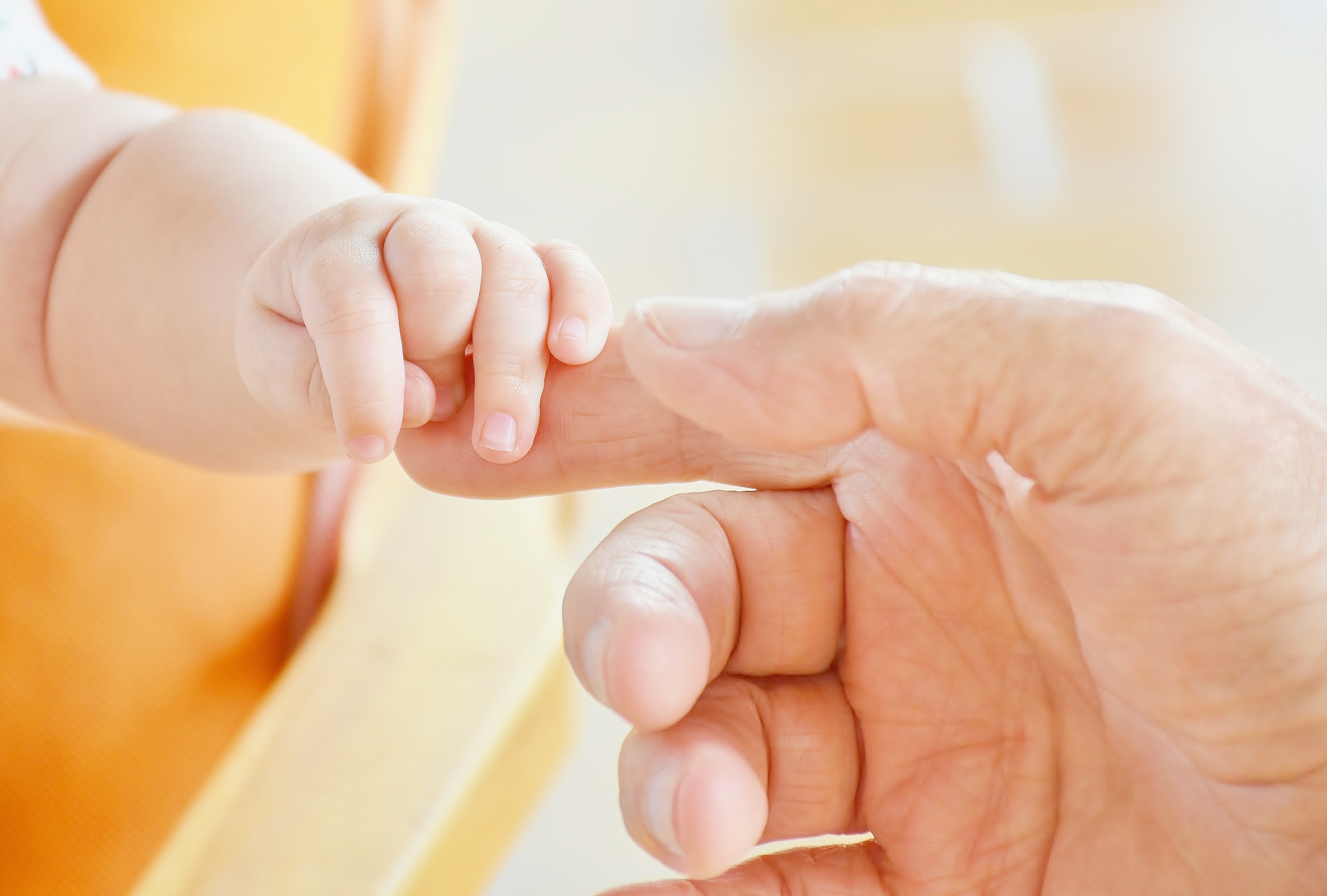 For the foodie Dad
Whether he's flipping up something good on the barbecue or whisking up a wonderfully sweet treat in the kitchen, a Dad in the mood for food is a force not to be reckoned with! An apron is an absolute of course, so why not have him covered (quite literally!) with one of our personalised Dad aprons. From durable denim to full length fun aprons, we have a super selection of men's cooking aprons for all those times when they're trying to thrill on the grill!
For a fun Father's Day activity for food fanatics, why not do some brilliant blindfold taste testing! Line up some of Dad's favourite (and not so favourite) foods, make sure he's not peeking and see if his knowledge of sugar, spice and all things nice is really as good as he makes out! This fun foodie game is an easy at home activity that all can take part in for lots of Father's Day laughs!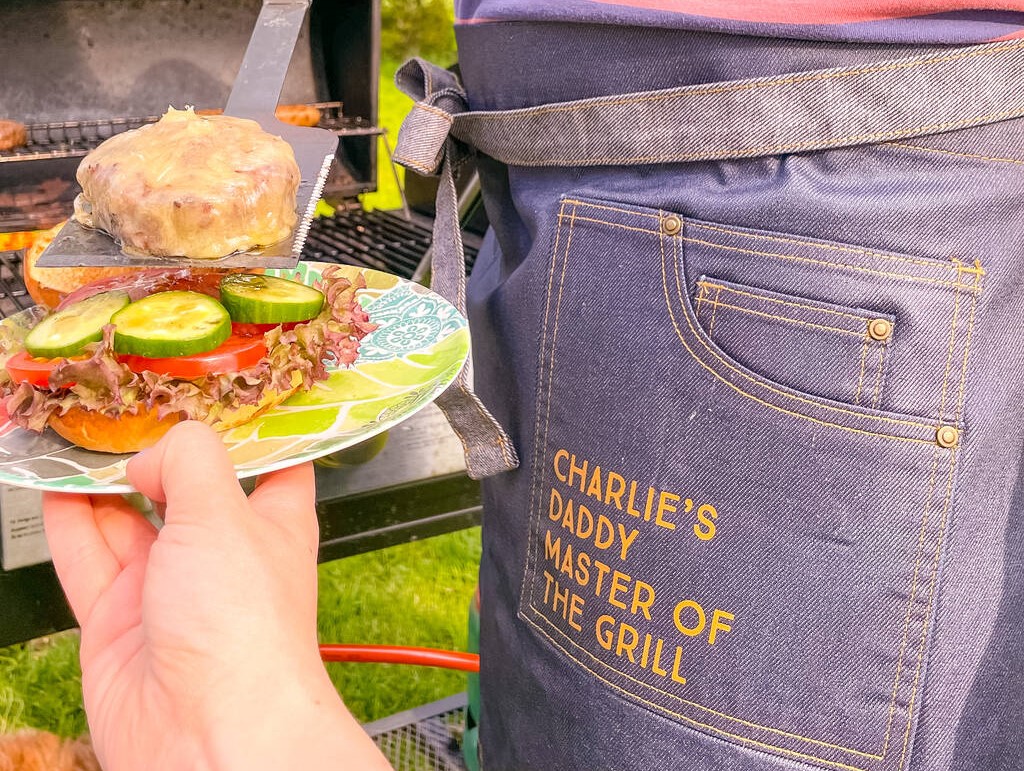 For the first time Dad
New to the wonders of the world at night time? Or nappies and never ending changes of clothes? Welcome to parenthood, hope you're strapped in tight! A first Father's Day is super special, you've got this new role, to be a role model, so wear it with pride with one of our many marvellous new Dad gifts! From a first Father's day sleepsuit for your amazing new additions to twinning dad and baby t shirt sets, seize this new opportunity to be able to wear cute clothing!
Our activity suggestion for first time Dad's? Sleep! Rest, soak it all up, they really aren't so little for so long!
For the fun Dad
Surrounded by kids? Tiny ones, big ones, or grown up ones?! Who says getting older means you have to grow up at heart! Fantastic fun can be had by the whole family, playing the day away or adventuring amongst imaginary wonders together. Here's to the Dad's who start the day with a fully charged battery and end it asleep surrounded by their little crew with hearts content from hours of great games and endless excitement! Our colourful Big Kid Little Kid family t shirts are just the uniform for your tired out team, or what about twinning jumpers too?
Oh and have we got some Father's Day game ideas for you?!
How about a Father's Day shaving race? (Don't worry it's super safe!). You'll need some wooden lolly sticks, shaving foam, and as many Dad's and kids as you can find! Pop the shaving foam all over Dad's face, really go to town! And the aim is simple, get the little ones to take their lollies (aka the razors!) and the first one to 'shave' Dad's face wins! If you really want to make a mess, opt for some whipped cream instead of shaving foam!
Or what about some water balloon rounders? (Weather permitting of course!) Fill up some water balloons, find yourself a soft bat, pick your teams, and well, try not to get wet! (Impossible, we know).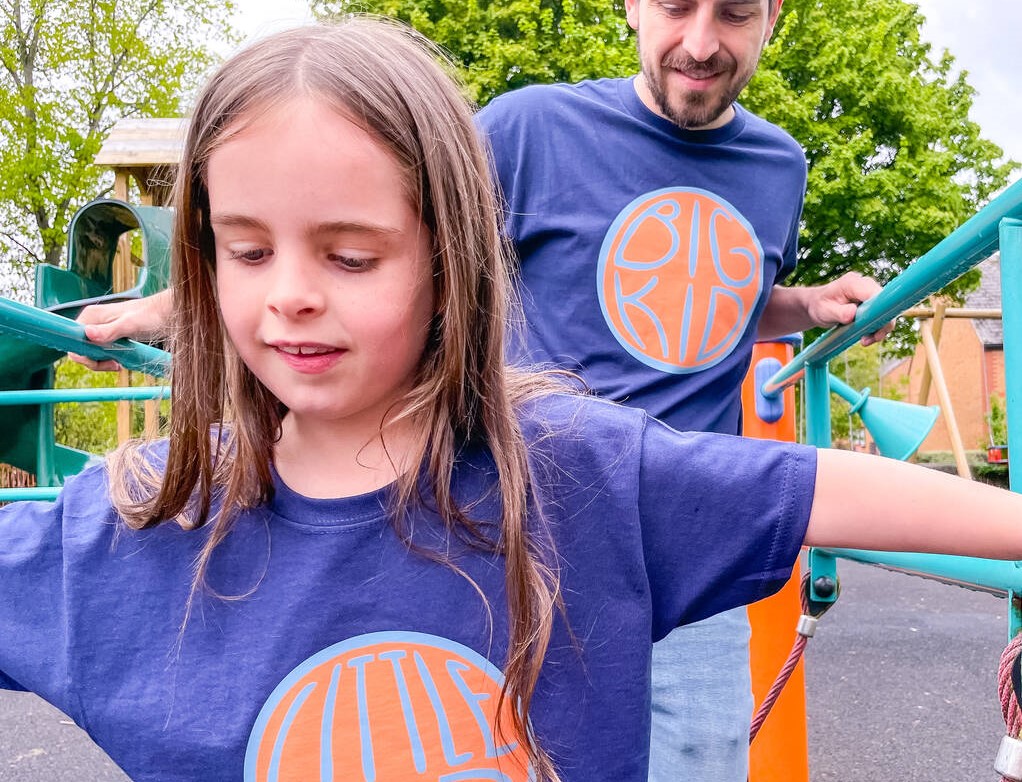 For the fast paced Dad
Dad in a dash? Running, cycling, nonstop, always?! If he's a super sportsman, a sporty Father's Day gift is just what you need! Say goodbye to sweaty towels that are meant for after your relaxing bath not a sprint in the summer sun! Get him his own personalised gym towel, it even has a handy pocket (who doesn't love pockets!) for a little snack, or two! Or how about a bag for all his stuff that he says he'll put away tomorrow, but tomorrow never comes!
For the fussy Dad
For the one who has it all and you can't come up with any ideas from the bottom of your brain on what to gift him for Father's Day, then look no further than a small and simple gesture! He's the one who buys everything he wants for himself, tells you not to get him anything when it's his birthday or Christmas! We all know one (or maybe you are one!).
Socks, we all wear them. Daddy dinosaur socks, Daddy bear socks, socks from the cat and socks from the dog! Personalised socks for Dad are a perfect and practical present, and sure to stir up a smile! Or how about a marvellous mug? Nothing says 'Dad' more than a mug that no one else can touch, full of copious amounts of coffee stains! And we have the perfect selection, from dino-mite dinosaur mugs to im-peck-able enamel bird watching mugs for those with a love for the outdoors! Also on our list of gifts for fussy Dads is a charming children's drawing hoop! Get your lovely little ones to unleash their inner artist (we're sure they won't mind) and we can then print their painting/drawing/masterpiece onto fabric and pop in a hoop, people will be wondering if they're at your house or the Louvre!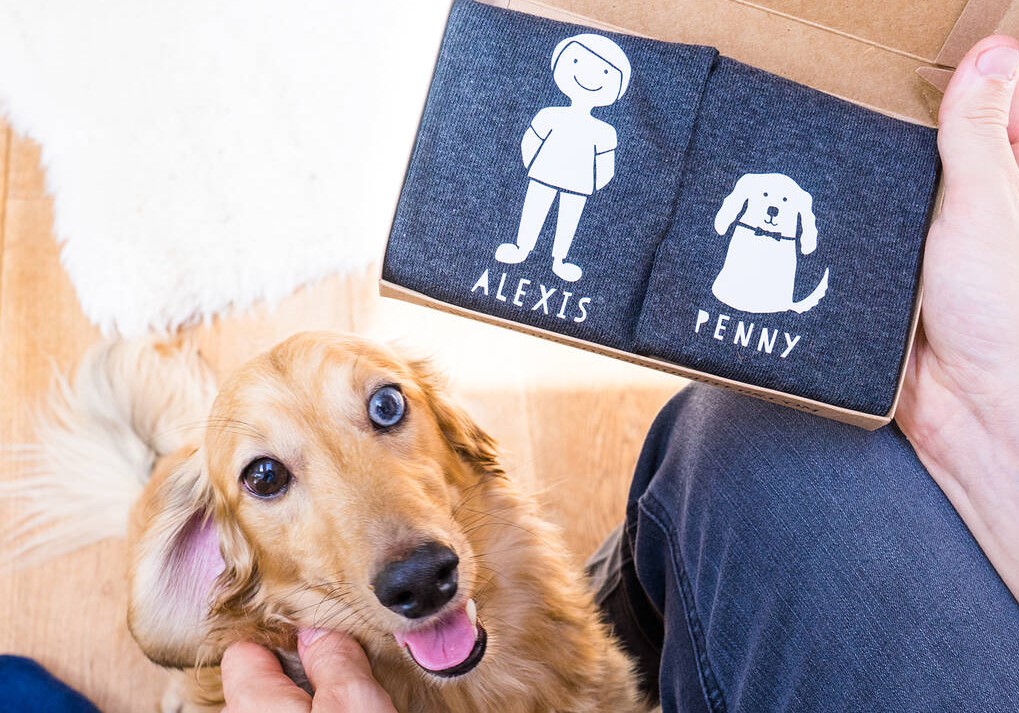 However you spend your Father's Day 2022, we are sure that your fantastic Father figure, whoever he may be, will know that he is so very loved by all.