Verity Sparks on 9th Oct 2020
Our brand new anti-racism charity t-shirts are available to purchase!
Earlier this year, I was inspired by the growing conversations surrounding equality and diversity and decided to create a brand new design to add to our range and raise money for a brilliant charity. When I shared a peek at the design on our Instagram, I was blown away by the response and the support.
I'm delighted to be launching the t-shirts on the site today! Our brand new Hands Up For Equality t-shirts are made from 100% organic, fair trade supersoft cotton and are available in all sizes from babies to adults. We'll be donating 10% of the sale price from every purchase to the Stephen Lawrence Charitable Trust to support them in their mission to create a fairer and more equal society.
The Stephen Lawrence Charitable Trust works with young people from disadvantaged backgrounds to help them to succeed in building a successful career, as well as supporting community groups and young people to develop new skills and play an active role in building stronger communities. Creating a more inclusive culture is a central part of the work that the Stephen Lawrence Charitable trust do, working with organisations to develop the way they work and the services they provide in order to achieve lasting social impact.
There are two co-ordinating designs available, "Listen, Learn, Educate" for adults and "Listen, Learn, Love" for children. These original, organic t-shirts share a message of heart and humanity. It's a simple phrase, but it's so important to show and share our love and support. Each design features a hand-drawn illustration, created in our Somerset studio, which represents everyone coming together.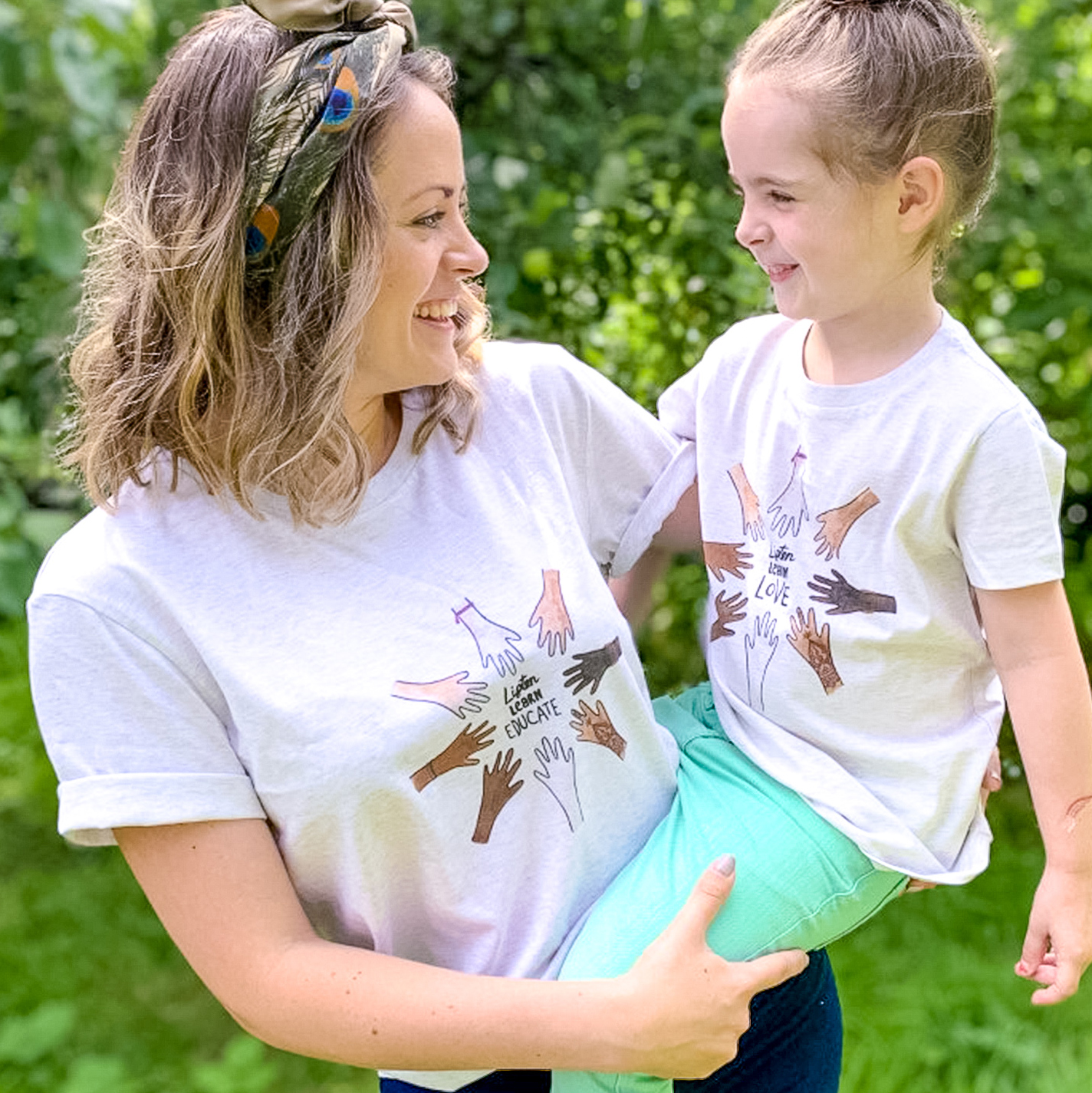 The child's top is unisex and comes in a selection of sizes so your little ones (and not so little ones) can wear them all together and show the world just how being together and working together really can make the world a kinder place!
You can buy the t-shirts in a matching set, or the children's and adult sizes are available to buy individually.
I'm so excited to partner with the Stephen Lawrence Charitable Trust on our anti-racism fundraising campaign. I believe that we have a chance to make a massive difference by teaching our children about what has happened in the past and what is still happening, even now. By doing that, we can do our part to make changes that allow our children a different, better future, no matter what they look like or where they are from